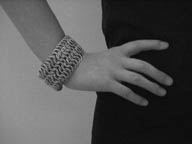 The steel bracelets that I have made are mostly of the 4-in-1 and 6-in-1 patterns, with widths of 3, 4, and 5.
At left you see a 6-in-1 bracelet 5-wide, made of rings that have a 3/8" inside diameter, and made of 14-gauge galvanized steel. The bracelet is long enough to overlap, and when it clasps it appears solid. Alternatively, you can choose a bracelet which will meet end-to-end instead of overlapping.
The bracelet pictured here costs $35.
Bracelets can be made of any of the patterns you see on this site. If you have seen a pattern that I do not have here, if you send me a picture or a small sample for reference I can make you a bracelet of the same pattern.
As with all of the steel items I make, there are two general sizes that are available. The one you see on the left is the larger, made of 14-gauge galvanized steel with a 3/8" inside diameter. The smaller size is made of 17-gauge galvanized steel, and has a 1/4" inside diameter. Alternate metals such as nickel, brass, and copper are also available at your request, in a variety of sizes.