The birdcage chain is the first pattern that I ever made in sterling silver. The individual rings are 3.2mm in diameter, and the chain itself measures 4.5mm in diameter. The picture at right is a close-up of the birdcage chain.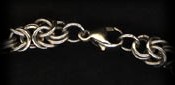 The longer standard necklace is 23 inches long, and closes with a sterling silver lobster-claw clasp. A close-up view of the clasp can be seen to the left. ($180)
A 15" necklace will lie just below the base of the neck on most people. It, too, closes with a lobster-claw clasp. ($115)
Custom lengths are available in increments of a quarter of an inch. Add (or subtract) $7.75 per inch if you are interested in a custom length chain.
Bracelets are all made to custom lengths, due to the variations in wrist sizes and customer preferences. Bracelets close with a lobster claw clasp. ($7.75/inch)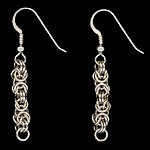 For those of you with pierced ears, I also make birdcage chain earrings. They hang from sterling silver french hooks. These french hooks are shaped so that the weight hangs directly under your ear, instead of in front of it. The earrings hang about 1-1/3 inches long. ($18/pair)
Earrings can be converted to clip-on upon request. Price per pair is $20.